OHSAS 18001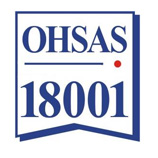 The importance of managing occupational health and safety is recognized by all interested parties: employers, employees, customers, suppliers, insurers, shareholders, contractors, regulatory agencies and the wider community.
Released in July 2007, OHSAS 18001:2007, this Occupational Health and Safety Assessment Standard (OHSAS) sets out the necessary requirements for an occupational health and safety (OH&S) management system.
For those familiar with the earlier version, there is now a greater emphasis on health rather than focusing primarily on safety.  OHSAS 18001:2007 is also more closely aligned with the international environmental management system standard, ISO 14001:2004.
Anticipating risk
In the past, occupational health and safety management tended to focus on the question of how to react to work-related incidents.  In contrast, OHSAS 18001 sets out a preventative and proactive approach which involves identifying workplace hazards and assessing and controlling risk.
Key elements
Some of the essential elements of the Standard include:
Developing OH&S policy
Planning
Implementing policy and plans
Checking for problems and taking corrective action
Reviewing management processes
Sustaining continual improvement.
Growing pressures on employers
Employers today confront bigger challenges than ever before, not least in the field of occupational health and safety where they face:
More rigorous health and safety regulations
Greater penalties for negligence
Rising compensation costs
Costly medical claims
Increasing rates of illness and injury
Pressure to retain workers and ensure employee satisfaction.
The benefits of OHSAS 18001
Organizations certified to the Standard report a range of benefits, including:
A reduction in lost working days
Fewer workplace accidents
Fewer medical claims
Recognition by insurers and regulators
A more disciplined approach to safety
Improved employee motivation, retention and satisfaction
Reduced legal costs
Less time and money spent on accident-related investigation and paperwork.
Workforce awareness
Employers who have adopted OHSAS 18001 report that it promotes greater employee awareness and understanding of health and safety at work.
Organizations which have attained registration maintain that it leads to improved internal and external communications and a more disciplined attitude among employees to health and safety matters.
Make sure your organisation is operating to best practice in its management of health and safety – call JBS for a free, no obligation assessment.