Safety, Health and Welfare at Work Act 2005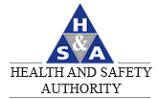 The Health and Safety Authority (HSA) is the national statutory body with responsibility for enforcing occupational safety and health law, promoting and encouraging accident prevention, and providing information and advice to all companies, organisations and individuals in the Republic of Ireland
The Safety, Health and Welfare at Work Act 2005 is the main legislation providing for the health and safety of people in the workplace.  The Act sets out the rights and obligations of both employers and employees and provides for substantial fines and penalties for breaches of the health and safety legislation.
Employers – including all directors and officers of undertakings who authorise or direct any work activities must understand their legal responsibilities and their roles in governing safety and health, upholding core safety and health values and setting good safety and health standards for their business. The most senior management in the organisation must ensure that all board members have a clear understanding of the key safety and health issues for the business and are continually appraised of the risks likely to arise.  Whatever role directors play in the running of the undertaking, they must have, or ensure the availability to the undertaking of, the basic knowledge and safety and health competence that their role requires.
Directors may be held personally liable and prosecuted for failing to manage safety and health in the undertaking.
In order to prevent workplace injuries and ill health the employer is required, among other things, to:
Provide and maintain a safe workplace which uses safe plant and equipment;
Prevent risks from use of any article or substance and from exposure to physical agents, noise and vibration;
Prevent any improper conduct or behaviour likely to put the safety, health and welfare of employees at risk;
Provide instruction and training to employees on health and safety;
Provide protective clothing and equipment to employees;
Appointing a competent person as the organisation's Safety Officer;
Risk assessment and safety statement;
Under the Safety, Health and Welfare at Work Act 2005 every employer is required to carry out a risk assessment to identify any hazards present in the workplace, assess the risks arising and specify the steps to be taken to deal with any risks.
The employer must also prepare a safety statement which is based on the risk assessment. The statement should also contain the details of people in the workforce who are responsible for safety issues. Employees should be given access to this statement and employers should review it on a regular basis.
The employer should tell employees about any risks that require the wearing of protective equipment and provide such equipment free of charge.
Reporting accidents
All accidents in the workplace should be reported to the employer, who should record the details of the incident.  An employer is obliged to report any accident that results in an employee missing 3 consecutive days at work to the HSA.
Make sure your organisation is meeting its health and safety obligations – call JBS for a free, no obligation assessment.