PAS 2060 – Specification for the demonstration of carbon neutrality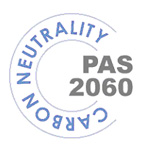 Companies and individuals are under constant pressure to reduce their carbon footprint today.  From reducing carbon dioxide and pollutant gases, to air pollution and exhaust gases, Publicly Available Specification (PAS) 2060 sets out general requirements for anyone who wants to achieve and show carbon neutrality.  By following these specifications, you can ensure all your claims are accurate – and gain your customers' confidence.
How does it work?
With PAS 2060 your business can decrease its greenhouse gas (GHG) emissions and demonstrate better pollution control – so you'll meet your environment and sustainability objectives.  By meeting these requirements, your customers and staff members have physical proof that your carbon neutrality statements are true and reliable.  The specifications of PAS 2060 help you to use the same criteria as your competitors and improve your general energy performance, saving you money on your energy bills.
The specification defines a consistent set of measures and requirements for entities (e.g. organisations, governments, communities, families, individuals) to demonstrate carbon neutrality for a product, service, organisation, community, event or building.
The entity must develop a Carbon Management Plan which contains a public commitment to carbon neutrality and outlines the following major aspects of the reduction strategy: a time scale, specific targets for reductions, the planned means of achieving reductions and how residual emissions will be offset.
PAS 2060 requires that the total amount of carbon emissions at the end of a reduction period be offset by high-quality, certified carbon credits which meet the following criteria:
From one of the PAS 2060 approved schemes (for example the Clean Development Mechanism, Joint Implementation or Verified Carbon Standard)
Genuinely additional (i.e. reductions that would not have happened anyway)
Verified by an independent third party to ensure that emission reductions are permanent, avoid leakage (so that emissions are not increased in another area as a result of the project reductions) and are not double counted
Make your enterprise Carbon Neutral – Call Jordan Business Systems today and let them show you how.