Recruitment & Employment Law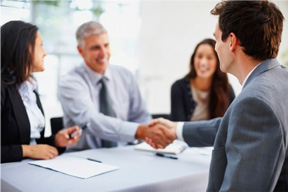 Finding someone to work in your business can be a daunting task.  All business owners know the costs of employing people – getting it wrong can be very costly in terms of the time involved in recruitment and training.  Harmony among staff is also important particularly in an operation where everyone has to work together.
The first step in the recruitment procedure is to draw up a job description.  This should be kept simple and accurate.   It is important to clearly define the qualifications, experience and personal characteristics needed to fulfil the requirements of the job.  Advertising the job may be necessary in order to attract enough applicants so the company can choose the most suitable candidate in a cost effective manner.
The interview is a crucial aspect of the selection process particularly as it is often the only contact between the candidate and the organisation.  It is therefore most important that it is conducted effectively.  In preparing for an interview it is advisable to draw up a list of the criteria that are important to you.  These could include:
Physical make-up, general appearance etc
Attainments (experience, educational), knowledge, skills and abilities
General intelligence, reasoning, analytical thinking & comprehension
Special aptitudes
Interests – social, intellectual, practical
Disposition – outgoing, self-reliant, cautious etc.
Circumstances – mobility, distance from work, flexibility
Always check references.  If possible get a written and verbal response to your enquiry.  Consideration should be given to a pre-employment medical check where appropriate.
Offer of Employment
When you have selected the candidate you consider as most suitable, the offer of employment should be made, in writing, subject to satisfactory references and a medical report where applicable.   All employees must receive a written contract of employment within two months of starting.
Induction Training
A new employee is a stranger who should be introduced to his or her new employment as quickly as possible.  Each newcomer should be told in clear terms what is and is not to be done.  This is the time to ensure that any critical health and safety issues are covered.
Employment legislation
It is essential for all employers to keep up to date on all applicable employment legislation and regulations.  An officer of the company or a competent person should be tasked with ensuring the company is aware of, and complies with, all relevant legislation including those on holidays, minimum notice, maternity/adoptive leave, unfair dismissals, working time directive, redundancy, payment of wages, contracts of employment, equality, protection of young persons, jury duty, health and safety at work to name but a few.
People are a company's most valuable asset.  A new employee is a significant investment for an employer but the laws surrounding the employment of staff have become increasingly onerous.  Call Jordan Business Systems today and let them guide you through this complex area.